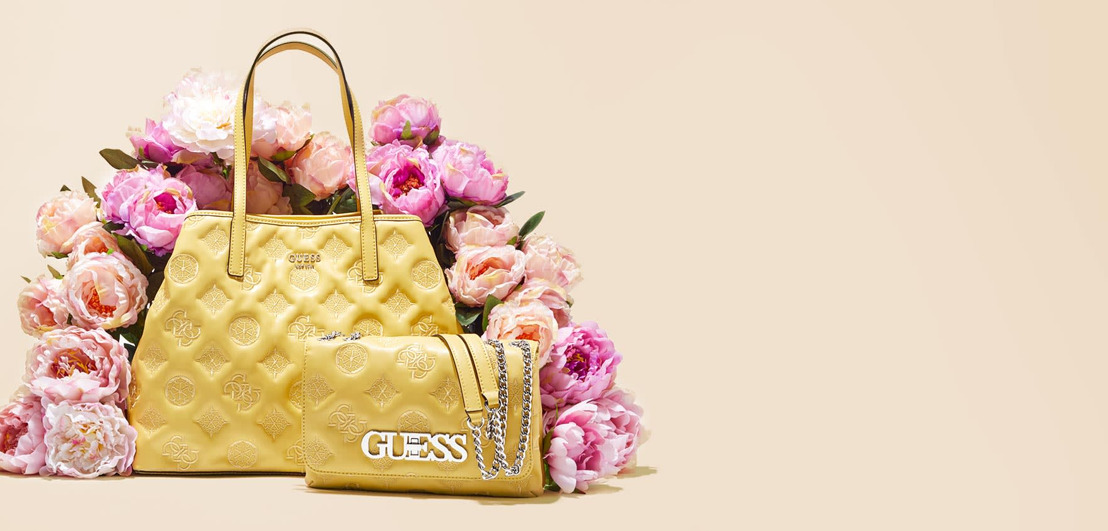 MAKE A STRIKING STYLE STATEMENT WITH THE GUESS CHIC BAG
Turn heads this season with the GUESS Chic bag, a fun and youthful twist on the ultra-feminine, contemporary appeal of the GUESS look. Available as a short shoulder bag and convertible belt bag, these chic models are the ideal accessory for the glam GUESS girl.

Created in an array of ultra-glam pop blue, caramel, white and black, the GUESS Chic plays with the textures through the on-trend embroidered peony concept – a nod to the favourite flower of GUESS founder and Chief Creative Officer, Paul Marciano – and is also available in a vibrant snakeskin finish with an additional hot pink accent to complement its fresh colour tones. Practical and portable, each bag is designed for the girls on the go with different compartments and a sleek, structured look that dazzles effortlessly from day to night, making the GUESS Chic a versatile option for everyday urban wear.
For an extra touch of chic, the unmissable GUESS turn lock is sure to catch eyes. Chunky chain strap detailing complements this unique hardware, finishing off the glamorous appeal of this new style favourite.

THE VIKKY TOTE: MODERN ELEGANCE WITH AN EDGY TWIST
Meet this season's sophisticated new must have! The Vikky tote boasts all the timeless appeal of this practical carry-all design, complete with a contemporary, independent spirit. The ideal everyday bag for the busy GUESS girl, the Vikky tote carries everything you need for a full-on day in the urban jungle, making this bag the perfect city accessory.
Available in summery shades of yellow and coral, alongside feminine pink and classic black, the Vikky also comes in the eye-catching embroidered peony motif, playful graffiti or sleek monotone. Appealing to every mood, the enduring allure of this timeless bag is updated with a fun array of finishes to suit every unique personality.
The Vikky's practical tote design is completed by a sense of understated simplicity and clean, structured lines. Slim, comfortable straps enhance the bag's elegant style and complement its perfect proportions, while a subtle GUESS logo adds a luxe detail. With its original take on a modern classic, the Vikky tote is always ready to take the city by storm, day or night.
Dorothée Marcus PR Manager, MMBSY