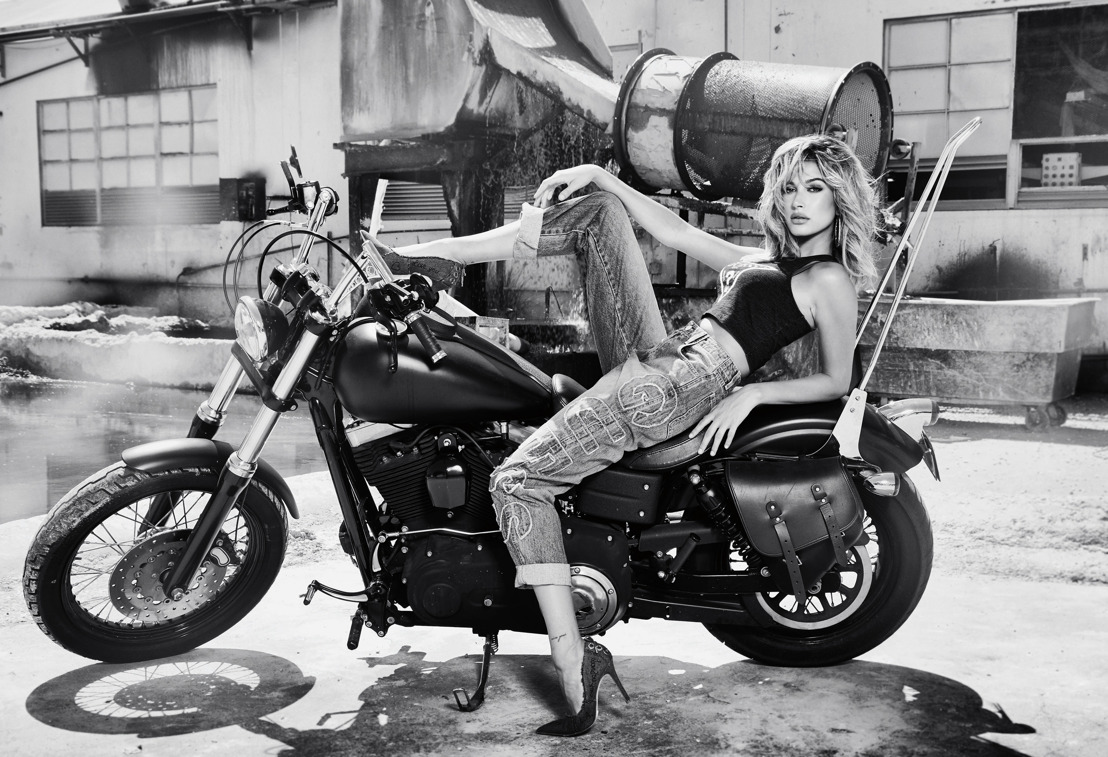 Guess introduces "GUESS Originals - 1981 Anniversary" Capsule collection
Monday, January 16, 2017 — This spring 2017 season, GUESS celebrates its 35th Anniversary with a GUESS Originals capsule collection and iconic advertising campaign featuring our latest GUESS Girl Hailey Baldwin, alongside heart-throb Stefano Sala. These classic black and white photographs showcase the limited edition pieces in the GUESS Originals 1981 Anniversary Capsule, which celebrate our 35 sexy years of innovative designs, pride, and success.
The collection hits stores April 17th 2017.
The advertising campaign, art directed by Paul Marciano, Chief Creative Officer for GUESS?, Inc., and shot by renowned fashion photographer Tatiana Gerusova, perfectly reflects GUESS' all American style and rich denim heritage that has characterized the brand for the past several decades. Gerusova's lens transports the viewer back to an era when the Marciano brothers transformed denim workwear jeans into must-have fashion pieces. Photographed inside an actual California denim washing facility, the campaign follows Hailey and Stefano as they exemplify the sensual and carefree essence of the GUESS brand. The denim creations and iconic logo tee's found in the capsule demonstrate that GUESS, 35 years after creating the fashion denim culture and introducing the category to the global fashion industry, still remains a pioneer in denim.
The GUESS Originals 1981 Anniversary Capsule keeps with the unique stone-washed and hand treated denim techniques developed by the Marciano brothers back in the 80's, which have remained a key part of GUESS' roots. Woven labels, buttons and rivets embrace the same aesthetic as the original pieces, which mirror the assortment of American and Italian fabrics used in the collections from the 80's and 90's. Mixing equal parts modern and vintage, the denim heavy women's assortment delivers a range of jeans, skirts, jackets, vests and chambray shirts in a variety of both oversized and fitted designs. 90's logo-mania returns making a big statement in the stone-washed denim group using logo letter appliqué, archival embroidery patches and laser printing to update the modern aesthetic and lend a classic nod to the 90's era varsity look. Oversized longline tees and vests are styled as dresses and worn over baggy high-waisted jeans to reflect the 35th anniversary collection's laid-back, vintage vibe. Form-fitting bodysuits as well as cropped tops, racerback tanks and sweatshirts stamped with a classic GUESS logo balance out any oversized piece in the capsule and add a touch of sexy to your vintage ensemble.
The spring 2017 men's GUESS Originals 1981 Anniversary Capsule collection brings back the 90's retro brights with pop colors splashed on oversized tee's and swished on old school GUESS logo's. Blending GUESS' all-American heritage with collegiate-cool, a head-turning varsity vintage jacket in vibrant coral, patched with artwork from the GUESS archives, steps up your sartorial layering game and adds a punch color to your wardrobe. For denim, selvedge 1981 jeans with destroyed details in dark and light indigo shades as well as indigo denim jackets with bold authentic GUESS embroidery and patches are classic hits that pair well with sashed indigo and heather grey drop shoulder sweatshirts that can either be worn alone or layered over a semi-distressed chambray button-down shirt.
Look for these GUESS images beginning February 2017 in top fashion and lifestyle magazines, at www.GUESS.com, on GUESS' social platforms, in GUESS retail stores, outdoor media, online, and on collateral materials.