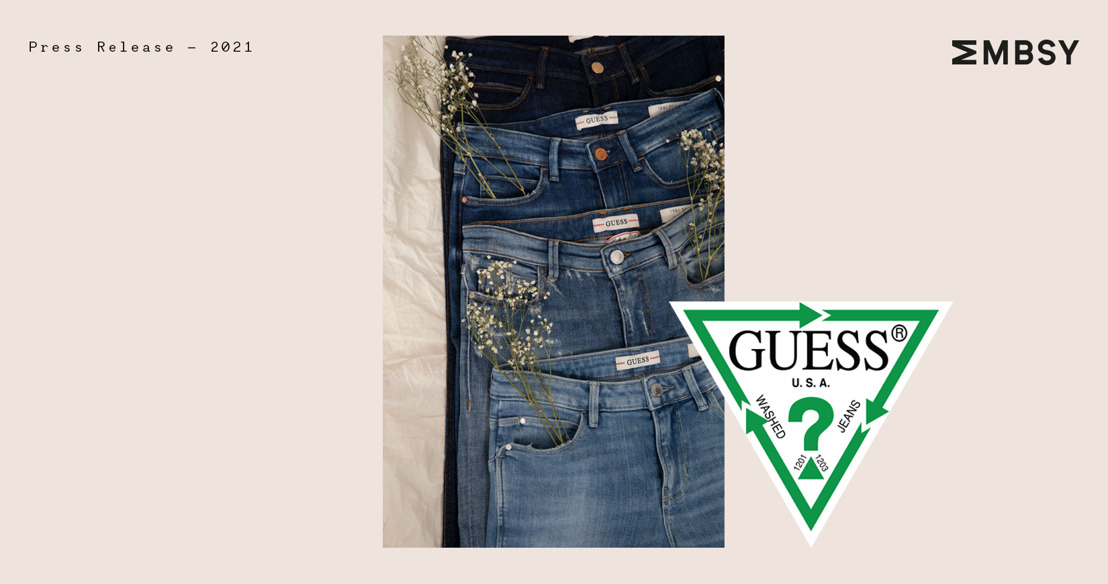 GUESS's Jeans Redesign and Reborn Denim programs lead the way in circular and sustainable design
GUESS FALL 2021
This Fall 2021, GUESS is leading the way in circular and sustainable denim with its GUESS x Jeans Redesign and Reborn denim programs. Circular fashion is the idea that clothing and fabric should be continuously reworn and recycled, and both denim collections demonstrate how new designs and styles can make fashion and sustainability go hand-in-hand.
GUESS x JEANS REDESIGN
GUESS x Jeans Redesign denim follows the guidelines developed by the Ellen Macarthur Foundation's Make Fashion Circular Initiative, which take a wholistic approach to sustainability from the materials to the design to the product's end of life. The GUESS x Jeans Redesign guidelines prioritize quality and durability, materials health, transparency, recyclability and worker welfare. GUESS x Jeans Redesign denim is made with 100% organic cotton, is produced with water saving wash technology, and uses naturally-harvested buttons and jacron back patches made from recycled paper and natural glue. Metal rivets have been completely designed out and replaced with embroidery tags. From the inside out, this high quality denim style is designed to last, while made of at least 98% natural, renewable resources that can easily be recycled or eventually go back to the environment.
GUESS REBORN DENIM
Also available this Fall is GUESS's Reborn Denim produced with eco processes and made with a minimum of 90% sustainable materials. The recycled materials come from second-hand denim and excess fabric from industry production. These materials are refined to create a beautiful, soft denim that helps to eliminate fashion waste, reduce reliance on precious natural resources while also offering a fresh take on GUESS styles.
Womenswear
Menswear
Both denim collections embody VISION GUESS, the company's new sustainability plan that is rooted in the brand's heritage - but fueled by a new energy for the planet and the future. In combination with the company's other eco styles, all under the umbrella of Smart GUESS, the current denim selection is at least a quarter of the brand's global offering and pushes the company towards its goal to reach 75% eco denim by 2024.
To learn more about GUESS sustainability or to shop GUESS x Jeans Redesign and GUESS Denim Reborn, visit its eco Smart GUESS collection website at guess.com/sustainability.
Dorothée Marcus PR Manager, MMBSY
About Jeans Redesign by Ellen MacArthur Foundation
The Jeans Redesign — which was developed by the Ellen MacArthur Foundation's Make Fashion Circular initiative together with more than 80 industry experts — describes a starting point on how to create jeans for a circular economy. It sets out minimum requirements for durability, material inputs, recyclability and traceability. The guidelines are based on the principles of the circular economy and work to ensure jeans last longer, can easily be recycled, and are made in a way that is better for the environment and the health of garment workers. Over 70 brands, manufacturers and fabric mills have committed to produce jeans in line with the Jeans Redesign Guidelines.
About GUESS?, Inc.
Established in 1981, GUESS began as a jeans company and has since successfully grown into a global lifestyle brand. Guess?, Inc. designs, markets, distributes and licenses a lifestyle collection of contemporary apparel, denim, handbags, watches, eyewear, footwear and other related consumer products. Guess? products are distributed through branded Guess? stores as well as betterdepartment and specialty stores around the world. As of May 1, 2021, the Company directly operated 1,041 retail stores in the Americas, Europe and Asia. The Company's partners and distributors operated 539 additional retail stores worldwide. As of May 1, 2021, the Company and its partners and distributors operated in approximately 100 countries worldwide. For more information about the Company, please visit www.guess.com.