Meet the must haves of the season from the GUESS Handbags FW21 collection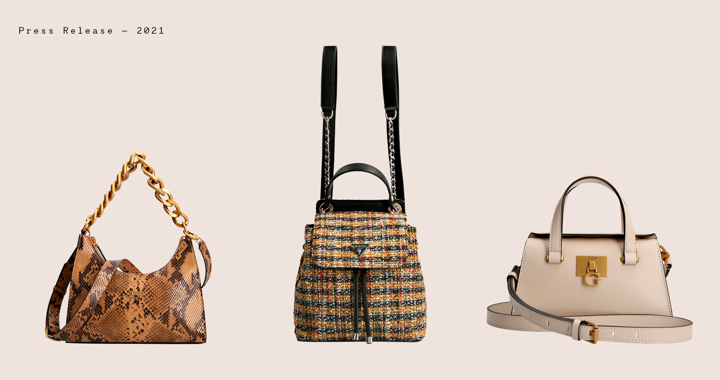 Embrace everyday elegance thanks to the luxurious GUESS Accessories Fall/Winter 2021 collection. Chic, irresistibly on-trend designs adopt striking yet versatile silhouettes, sumptuous materials, and iconic detailing, making the perfect accessory to complete the stylish GUESS woman's look.
Among this ultra-appealing collection, must-have pieces stand out with their contemporary attitude. Contrast stitching makes a head-turning finish to sophisticated satchels, mini satchels, and top handle flaps designs. Saddle stitching creates a vintage effect, while clean silhouettes ensure a contemporary appeal.
Glamorous faux fur models in luxury satchel and mini top zip shoulder designs add a sexy, fun detail to any glam outfit, day or night! Available in classic leopard, merlot, rose and black, faux fur is as versatile as it is chic.
For timeless style, this season sees jewelry tone tweeds in sophisticated colors that add a classic yet adventurous touch to the GUESS woman's wardrobe. Available in tote, convertible crossbody flap, micro mini and flap backpack silhouettes, these eye-catching pieces dazzle in multi tones of tan, nutmeg, beet red and black. Sumptuously soft velvet elevates the best-selling convertible crossbody flap to the heights of luxury. The perfect size for an evening's essentials, this striking bag is available in a wide palette of colors and finished with the classy GUESS peony embossed pattern.
Finally, the iconic G logo makes an appearance, adding the ideal finishing touch to tote, shoulder bag and mini styles. The quilted material ads a little extra oomph to the style, while each silhouette is finished with an adjustable shoulder strap.
---
Find all GUESS Handbags FW21 packshots here.
Mallika D'Huys
PR Manager, MMBSY