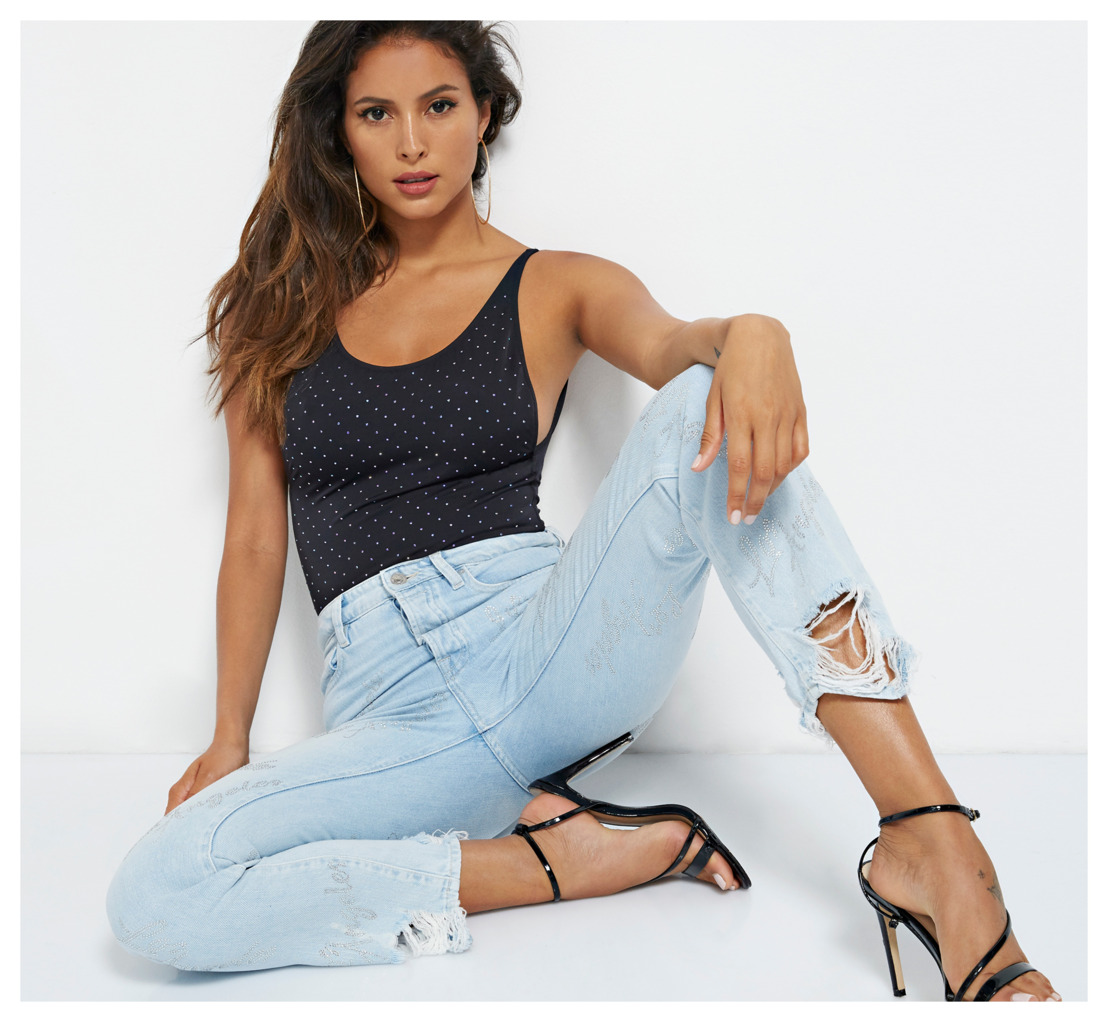 Up your Sustainable Style game the GUESS way!
GUESS Eco Denim SS19
"The time for words is over. It's now time to do our part, even if it's a small one, to preserve the planet for future generations".
This year, GUESS reinforces its commitment to sustainable fashion. In partnership with I:CO (I:Collect), a global solutions provider specialised in the collection, certified sorting, reuse and recycling of pre-loved apparel and footwear, GUESS is launching the RESOURCED program, aimed at encouraging customers to recycle their wardrobe by giving it a new lease of life. Launched in California and the US in 2018, the aim is to expand the programme worldwide by 2020.
This commitment to circular fashion is part of the GUESS Sustainability Plan, disclosed in the sustainability report published in 2017. Since then, GUESS has also joined the Better Cotton Initiative (BCI) dedicated to improving sustainability in the global cotton industry as well as establishing a responsible sourcing policy on rayon and other cellulosic materials, in a bid to protect forests and local communities.
This commitment to an eco-friendly world takes the concrete form of the Eco Denim collection. In fact, the new Women's Spring-Summer 2019 offering, with its sensual, figure-hugging styles, like the skinny 1981 trousers and the Marilyn jeans with rip details in eye-catching washes, like 'hyped' and 'hungry' blue, is all geared towards decreasing the carbon footprint, guaranteeing lower C02 emissions and water and energy saving throughout. The same applies to the lining of the garments, which are created using a special material made from recycled bottles. Moreover, the denim range also fully exploits the all-Italian quality of Milan-based Candiani, a company that adopts entirely sustainable methods for the production of its denim fabrics.
Created from great eco-friendly materials, the 100% organic cotton t-shirts use cotton that is grown without the use of fertilisers, chemical pesticides or genetically modified seeds. Furthermore, the reduced energy and water consumption of the production process helps mitigate the environmental, social and economic impact of cotton production. Since starting GUESS ECO in 2016, the company has saved over 2.5 million liters of water, one days' worth of drinking water for 1 million people. GUESS plans to double its water savings by 2021.
Proposed in a vast assortment of styles, textures and graphic designs, the looks are not only cool and sexy but more sustainable too. The women's collection includes t-shirts in lively colour tones, from yellow to green and fuchsia, as well as solid colour tank tops and bodies or navy-inspired blue and white stripes. Playful embroidered accents, slogans and maxi-GUESS logos add an exclusive signature finish to the classic lines of this essential fashion staple!
Change the world, starting with your wardrobe!